20 Rumi Quotes TO Make You Go Deep
Does it ever happen to you that a quote make you think? It happens to me every time whenever I read Rumi's quotes.
Rumi was a 13th-century (born in Afghanistan) Persian poet, jurist, Islamic scholar and theologian. His poems have been widely translated into many of the world's languages and transposed into various formats. Rumi has been described as the "most popular poet" and the "best selling poet" in the United States.
Here are 20 Rumi Quotes that make you go deep.
"Everything you possess of skill, and wealth, and handicraft,
wasn't it first merely a thought and a quest?"

Rumi
"Whatever purifies you is the right path, I will not try to define it."

Rumi
"The morning wind spreads its fresh smell. We must get up and take that in, that wind that lets us live. Breathe before it's gone."

Rumi
"Your heart is the size of an ocean . Go find yourself in its hidden depths."

Rumi
"When will you begin that long journey into yourself?"

Rumi
"Look past your thoughts, so you may drink the pure nectar of This Moment."

Rumi
"Keep silent, because the world of silence is a vast fullness."

Rumi
"What matters is how quickly you do what your soul directs."

Rumi
"The moment you accept what troubles you've been given, the door will open."

Rumi
"Listen with ears of tolerance! See through the eyes of compassion! Speak with the language of love."

Rumi
"Your heart knows the way. Run in that direction."

Rumi
"Only from the heart can you touch the sky."

Rumi
"There is a life-force within your soul, seek that life. There is a gem in the mountain of your body, seek that mine. O traveller, if you are in search of that, don't look outside, look inside yourself and seek that."

Rumi
"The ground's generosity takes in our compost and grows beauty! Try to be more like the ground."

Rumi
"Stop acting so small. You are the universe in ecstatic motion."

Rumi
"The only lasting beauty is the beauty of the heart."

Rumi
"The spirit is so near that you can't see it! But reach for it… don't be a jar, full of water, whose rim is always dry. Don't be the rider who gallops all night and never sees the horse that is beneath him."

Rumi
"Take someone who doesn't keep score, who's not looking to be richer, or afraid of losing, who has not the slightest interest even in his own personality: he's free."

Rumi
"Run from what's comfortable. Forget safety. Live where you fear to live. Destroy your reputation. Be notorious. I have tried prudent planning long enough. From now on I'll be mad."

Rumi
"Sell your cleverness and buy bewilderment. Cleverness is mere opinion. Bewilderment brings intuitive knowledge."

Rumi
I hope you liked these quotes. What's your favorite quotes? Don't forget to share your favourite quote in comment section below. If you want to keep close Rumi's quotes to yourself then you can also buy these mugs.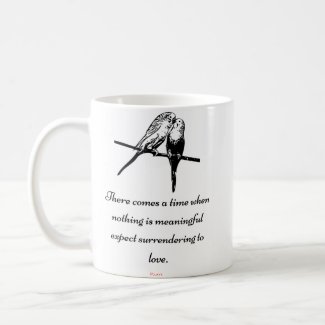 "Surrender To Love" – Rumi quote mug
by Winspira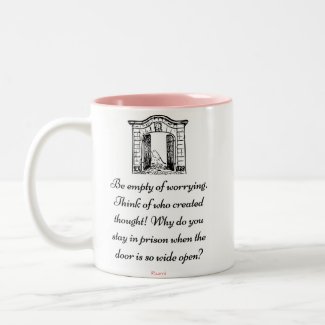 "Be Empty Of Worrying" – Inspirational quote mug
by Winspira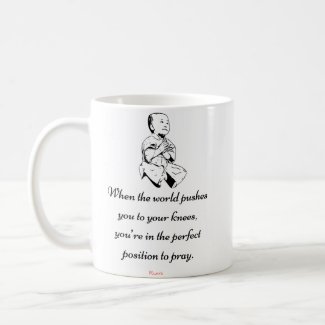 I'm Pinterest Marketer and blogger with over several years of experience, I love positivity and have a growth mindset.